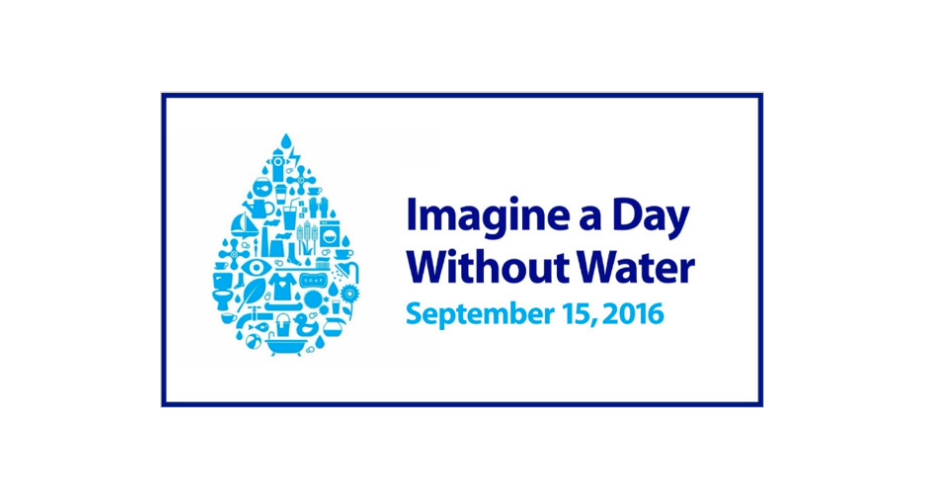 16 Sep

Imagine A Day Without Water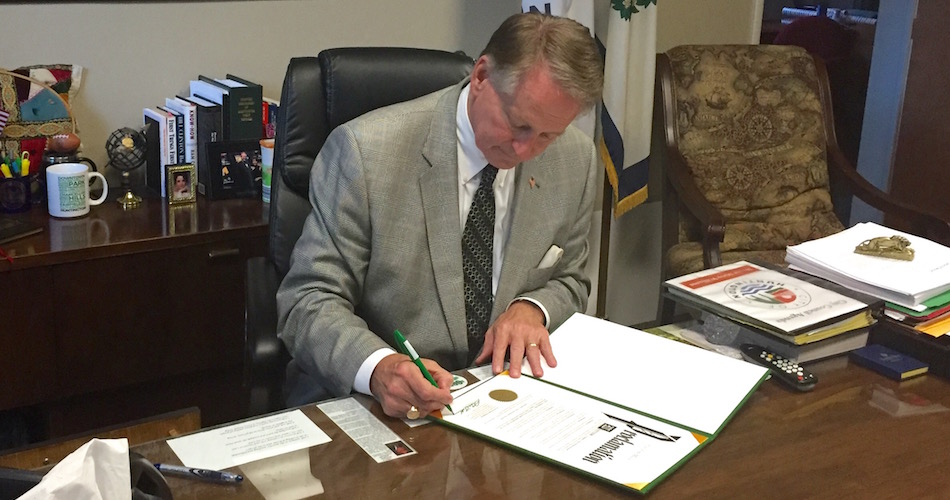 Huntington Mayor Steve Williams signs a proclamation deeming September 15th "Imagine A Day Without Water" day.
We have all experienced the frustration of bone-rattling potholes and flooded streets from a summer storm. It's maddening, expensive, and it has become commonplace to demand that public officials step up to fix it. Now keep those potholes and street flooding in mind, but picture a separate, hidden infrastructure system that is larger and significantly older than the roads. You can't see it, but it ensures we are able to go about our daily routines without a second thought.
These are our water and wastewater systems – an underground maze of pipes under our streets, under your house, working to move water 24 hours a day, seven days a week, 365 days a year. This underground maze brings clean, safe water to us and takes it away after we use it to be treated before it is safely released back into the environment. Unlike the potholed roads you can see, the crumbling water distribution and wastewater collection systems are hidden from view. But a broken water system is absolutely devastating.
What happens when these systems fail to keep up with our needs? Imagine a day without water. You would not be able to give your dog a bowl of water or make your coffee. Forget about brushing your teeth, flushing the toilet or taking a shower. And that is just residential use. Commercial enterprises, from restaurants to hospitals, factories to power plants, need water, too.
Too many communities around America have already experienced how terrible life is without safe, reliable water service. The devastating flooding in June caused our neighbors to the east and south to lose water and wastewater service. The catastrophe in Flint, Michigan comes to mind, as does the Freedom Industries spill in 2014. Communities that are experiencing epic drought in the Central Valley of California have literally relocated residents because their wells have run dry. These communities know that a day without water is a crisis.
It's why we at The C.I. Thornburg Co., Inc. are taking part in a nationwide educational effort called "Imagine a Day Without Water." Hundreds of organizations across the country, including water agencies, mayors, engineers, contractors, business and labor leaders, schools, and other community organizations are joining forces to raise public awareness and spark action to solve water and wastewater problems today, before they become a crisis tomorrow.
It is also why we hold ourselves to the highest safety standards for supplying water and wastewater treatment chemicals to our customers across West Virginia, Kentucky, Ohio, and Tennessee. This May we achieved third party verification of our Responsible Distribution program by the National Association of Chemical Distributors (NACD). This standard demands our commitment to continuous improvement at every stage of chemical storage, handling, transportation, and disposal. Our core values of safety, excellence, and being driven to serve our communities are embodied by our dedication to assuming the highest level of responsibility to our water and wastewater customers – not just the water companies, sanitary boards, and sewer districts, but everyone who turns on a faucet or flushes a toilet.
C.I. Thornburg recognizes how fortunate we are to live in areas that have water and wastewater service. To live our mission, to Lead the World through Clean Water, we started a partnership this year with Agua Yaku (www.aguayaku.org). Agua Yaku is a nonprofit dedicated to bringing sustainable water solutions to the people of Bolivia, with leadership ties to Lexington, KY. We made an initial service trip to Bolivia this spring, and are donating dollars and volunteers based on our water treatment chemical sales. This engages our local customers to make a global impact, providing clean water to areas in great need.
And while water falls from the sky and flows through our rivers, it is far from free. Processing it, treating it, bringing it to and from your house costs the water companies and the sewer boards millions of dollars a year. Here in Huntington, we regularly read about, and have to drive around, sinkholes, pipe collapses, and water main breaks. The good news is that if we make adjustments before major system failures, we can be ahead of the curve. Through continually maintaining the system, by upgrading our pipes, and deploying new technologies that spot weaknesses before they turn into breaks, we can save money in the long run, prevent disruptions to daily life, and protect the health of our citizens and economy.
It also requires effort and attention from community leaders, elected officials, business owners, workers, and more. We thank Mayor Williams for his support of this awareness effort. Without strong voices advocating for this work, and devoting funds for maintenance, our water systems will continue to crumble, out of sight and out of mind. We have to keep up the pressure to address issues with our water and wastewater systems today so we can imagine a day without water if we need to, but we never have to live through it.